Another industry first for Janitized®!!!
Janitized® is proud to announce another industry first!
Following rigorous testing by the United States Department of Agriculture (USDA), Janitized® brand Compostable Vacuum Cleaner Bags and packaging have received the Biobased Product Certification and Label.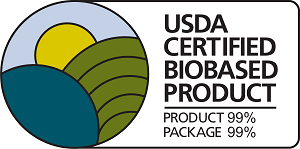 Janitized® is the first vacuum bag to receive this USDA certification and is now the "first and only product on planet earth" to receive all three US government validations for Compostability.
"We believe that protecting the environment, reducing landfill waste, and promoting sustainability are important to the health of people and the planet," said Leanne Brunton, Janitized® Brand Manager. "We are thrilled to receive this recognition from the USDA."
The team at Janitized® and its parent company, a North American custom air filter manufacturer, are proud of their continued leadership in the design, engineering, and manufacturing of environmentally-friendly cleaning products.
USDA Biobased Product Label
The USDA certification confirms our vacuum filter bags and packages are made from 99% biobased content.
According to the USDA, "Biobased products are finished or intermediate materials composed in whole or in significant part of agricultural, forestry, or marine ingredients."
All claims on biobased amounts are verified by independent labs and monitored by the USDA. The goal of this certification is to give consumers confidence in the biodegradability of products so they can make informed decisions in their purchases.
A History of Technical Innovation
Our new USDA certification builds on our history of technical innovation in the pursuit of environmental sustainability. Janitized® can now add the USDA BioPreferred Product Certification to its ASTM D6866 Approval and UL Environmental Claim Validation (ECV). Janitized® is also the WINNER of the Sanitary Maintenance Distributor Choice Product Award for their Compostable Vacuum Cleaner Bags.
The Biobased certification is an important milestone for Janitized®, which opens new opportunities for our company. With our USDA approval, Janitized® Compostable Vacuum Cleaner Bags can be accepted into Biodegradable/Composting Facilities in the United States. Commercial cleaning companies looking to reduce their environmental footprint now have an extra reason to purchase Janitized® compostable vacuum bags.
Achieving this certification cements our position on the cutting edge of the sustainable cleaning industry.
Contact us to learn more!
For more information about our products or to purchase, please contact us at:
1 (888) 689-1235 x226.
To learn more about the USDA Biobased Product & Packaging Label, click here.