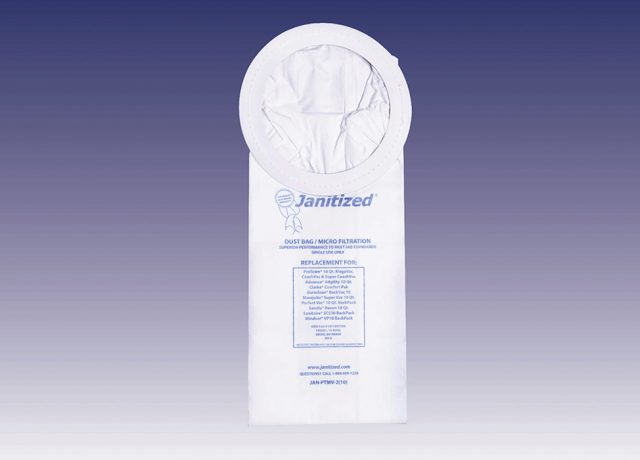 Part #: JAN-PTMV-2(10)
Designed to Fit: Bissell * BGPRO10A Model 37491 BG1001 BackPack
Material: 2-Ply Combination Paper & Meltblown Micro Filter
Case: 10 – 10 pks
OEM: 25602 , PKBP10 , 10-0006
HEPA VACUUM FILTERS
For OEM's of industrial and commercial vacuum equipment APC is a proprietary supplier. Unlike standard glass fiber HEPA media used in most HEPA air filtration applications, industrial and commercial vacuum systems require a bullet proof filter media and filter construction to withstand the abusive environment these filters are subject to. Applications like concrete grinding, sandblasting, rock drilling and mining operations require continuous equipment operation with self-cleaning or washable filters. APC ensures our filters are designed to meet the demanding needs for these applications.
JANITIZED® REPLACEMENT VACUUM BAGS & FILTERS
Janitized® brand vacuum bags and filters are a premium line of replacement filter products designed for heavy duty use in industrial and commercial vacuum cleaners, sweepers and floor care equipment. Janitized® brand filters are the industry's first and most comprehensive line of replacement filter products that meet UL and USDA product certifications.
Industries for this product
Become a Janitized®
 Distributor
From concept through production, we've got what you're looking for.